About
The Oceanside Realty Team
We are pleased to introduce you to The Oceanside Realty Team and our motto, "Building Clients for Life." Building lasting relationships that are about you, your family, and your goals. 
Real estate is a passion for The Oceanside Realty Team, and with our founder and Team Leader, Paul and Anthony Chiolo's extensive background in business, it is easy to see why more than 10,000 clients throughout the years have trusted The Oceanside Realty Team to help them buy or sell.
The Oceanside Realty Team has served Cape May County for 34 years and the objective to assist families in buying and selling real estate consistently remains our top priority. We are experienced trained professionals who understand all aspects of real estate in its entirety and we have the skill of providing impeccable service that causes our customers to keep coming back resulting in 84% repeat clients. If you have thoughts of buying or selling, we would love to have a conversation.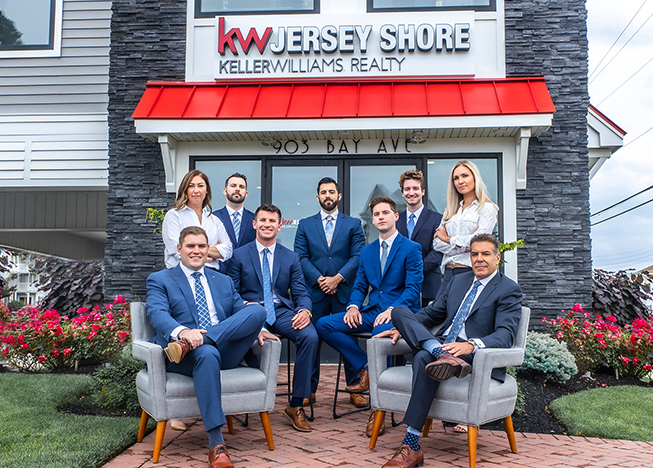 Paul Chiolo opened Oceanside Realty in 1991, later forming The Oceanside Realty Team with the goal of offering a team oriented approach while providing superior customer service in the Wildwoods. Since 1991, we have specialized in marketing and renting single family homes, condos, townhomes and represented a variety of developers (spec) ranging from $200,000 to $6 million. While Paul's personal niche was selling motels along the beach with over $50 million sold since 1998 and 200 million in residential sales, his true strength is the team he has established which consist of specialized licensed professionals who offer their full attention to even the smallest detail. The Oceanside Realty Team has sold over 2 billion in real estate in Cape May County. In 2015 Anthony Chiolo joined the team and quickly became a top producer.
Anthony brings with him not only the expertise in this market but a genuine care for his customers and clients. He is ranked high by his peers and he continues the tradition of growing the team with new associates. Anthony has taken the lead at The Oceanside Realty Team and he continues its growth managing our inside sales staff, transaction coordinator, buyers agents, maintenance and photography staff, as well as our executive assistant Amanda Pluta.
Both Paul and Anthony place education at the top of their priority list for their whole team, surrounding themselves with dynamic mentors and cutting edge technologies. Paul was ranked #109 by the National Association of Realtors, is an annual Platinum producer by the National Association of Realtors, is a New Jersey Licensed Instructor, and holds the CRS, CRB and E-Pro designations, as well as a CCIM candidate. Paul has been featured both locally and nationally by many news sources. Anthony is also a Platinum producer recognized by the National Association of Realtors, has attended mastermind events with Gary Keller in Austin, TX and is currently working on his Brokers License.
There's a reason why The Oceanside Realty Team sells homes 52% faster and 2.8% higher than all other agents in the South Jersey market. Our team is extremely knowledgeable of our local market and is dedicated to providing top notch services by bringing the most value we can, not only to our clients, but also to those in our community.
The Oceanside Realty Team
Timeline
1991-2009
Paul Chiolo opened Oceanside Realty in Wildwood, New Jersey
The Oceanside Realty Team became the Jersey Shore's
first Mega Team
Oceanside Realty expands and moves to their new 3,600 sqft.
location in Wildwood Crest
Team Oceanside breaks 1B in sales
The Oceanside Realty Team became the highest producing team in Jersey
Shore's history
2010-Present
The Oceanside Realty Team merged with Keller Williams Realty International
to expand their footprint and depth in
the marketplace
Anthony Chiolo joins the team
The Oceanside Realty Team breaks 1.5B in sales
Anthony Chiolo leads the team and continues to grow our sales and
rentals along with Paul